GEOGROUP Corporate Site
Client

Geosystem Corporation Co.,Ltd
Role

Design, Development
Date

Mar 2022
Overview

A building engineering company, that measures and translates the unexplored.
We were in charge of creating the corporate website for "GEO GROUP", a company mainly engaged in surveying and infrastructure projects that support our day-to-day lives. At that time, production was under the visionary guidance of TSDO Inc. led by Taku Satoh, who was in charge of the branding department, which included the logo and corporate message.
Insight

The corporate site has been designed to convey "uniqueness", in line with the new logo.
Geo Group consists of three companies: Geosystem, Geocreate, and Geowing. Though the logos of the three companies were redesigned by TSDO Inc, only two of them had publicly available websites, and none of them represented the group as a whole.
The original request was to create a corporate website for just Geosystem alone. However, to take advantage of TSDO Inc's branding of the entire group, we proposed to seize this opportunity, and create a corporate website that would unify the group's businesses.
Idea

The "uniqueness" of the group as a whole is superimposed on the heroic figure.
Based on the company brochures that TSDO Inc. produced, we decided on the tone and format of the web design, and created a unique web presence for GeoGroup. The bold layout and large, strong typography are used to embody GeoGroup as a hero, who quickly rushes to the site of a landslide, and uses cutting-edge technology, such as drones, to help in the recovery efforts. In addition, the wires used during the work process were incorporated into a grid system forming lines across the site, a unique feature that evokes the individuality of Geo Group and its business activities.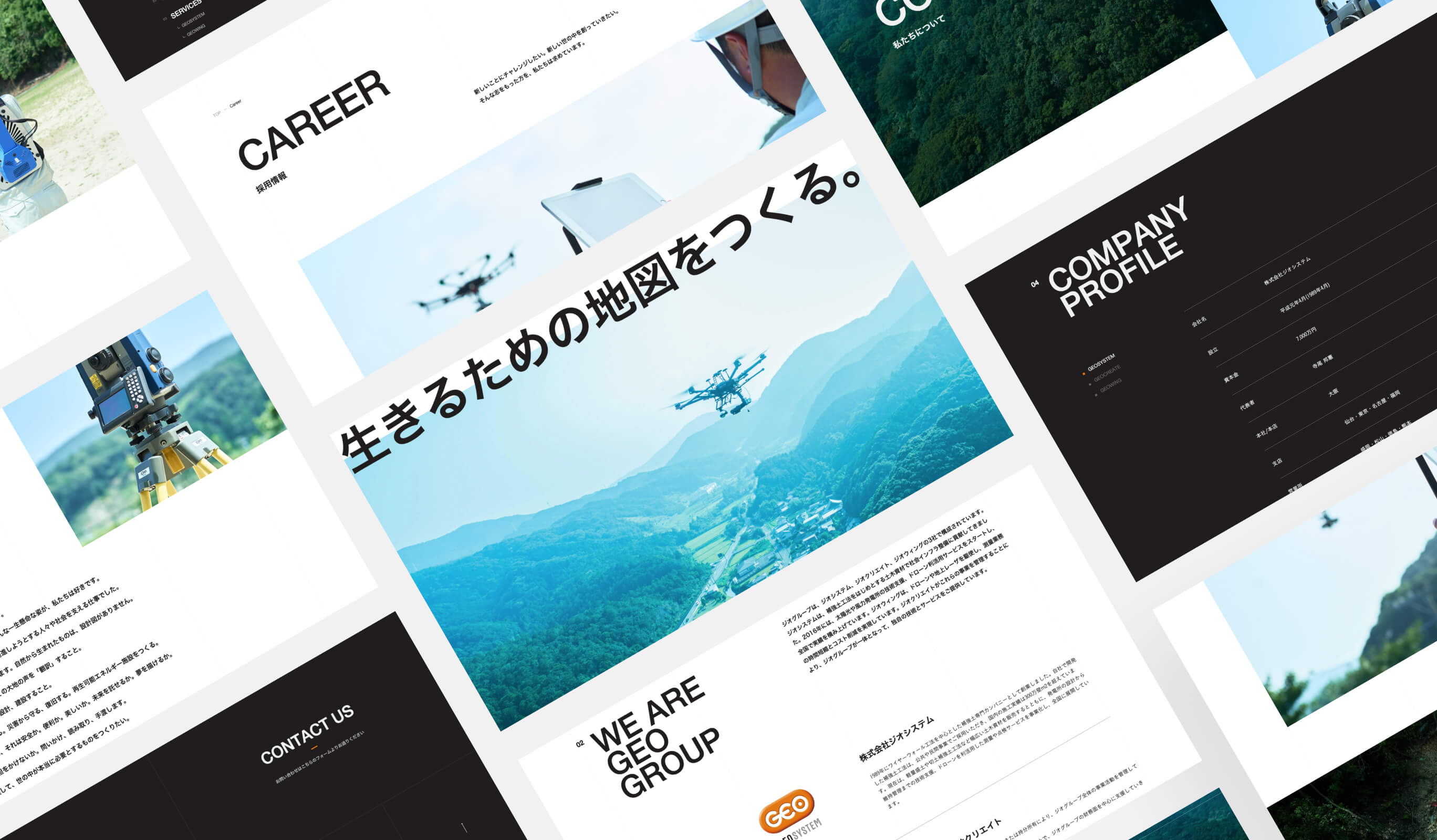 Project team
Takuma Kato

CEO / Producer

Ryohei Kamada

COO / Art Director / Designer

Koki Michiai

Designer

Junichi Nishiyama

Senior Interactive Designer

Takaaki Sato

Developer

Dada Okada

Account Planner

TSDO inc.

Agency

Toshihisa Nakamizu (COMPASS INC.)

Project Manager

Yoichi Onoda

Photographer

Keiko Yoneta

Copy Writer